We offer a Click & Collect service from our premises in Swords.
Confetti Balloons
J5 Swords Enterprise Park
Feltrim Road,
Swords, Co Dublin
K67  N7P9
Google maps location, click here – Confetti Balloons
Simply select your collection date at checkout
Collection Hours
Collections are limited to Monday – Saturday.
We will have your balloons ready for you to collect.
We also put them in balloon bags to make transport easy & keep them nice and fresh.
Please consider the size of your order and the size of your vehicle before selecting our collection option.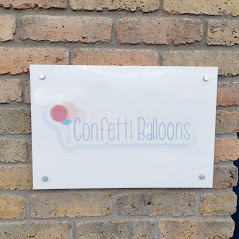 Tips for Caring for your Balloons
To make your balloons float, they have been filled with helium. Helium is a safe, non-flammable gas that is lighter than air.
Please do not inhale the helium. All helium filled balloons are affected by temperature. They like a constant room temperature. Never leave helium balloons anywhere COLD. Cold air can cause your helium balloons to deflate.
Float time guide if you keep them at a constant room temperature.
Bubble balloons – 3-10 days
Orbz balloons – 3-10 days
Balloon hoops – 2-4 weeks ( air filled )
Foil bunches – 3-10 days
Foil Number balloons – 2-3 days
Ceiling balloons – 10-12 hours
Balloon arch & clusters – 1-2 weeks ( air filled )
Giant Balloons – 10-12 hours
Please remember :
Balloons are not toys and are for display purposes only.
They are intended for indoor use.
Do not release outdoors. Pin it & bin it.
Adults should supervise young children at all times when around helium balloons.